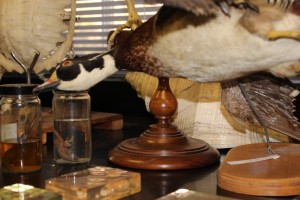 The Randolph College Natural History and Archaeology Collections contain hundreds of zoological specimens including birds, mammals, fishes, reptiles, insects, marine invertebrates, and fossils. The collections boast an excellent herbarium containing thousands of specimens of plants indigenous or introduced to the eastern United States, specifically Central Virginia. Also notable is the large geology collection, featuring thousands of rock and mineral samples from around the world. Lastly, the archaeological collections contain artifacts and remains from local and classical Mediterranean sites.
The core collection dates at least back to 1895, with geological specimens accrued by Fernando Wood Martin, chair of the department of Physics and Biology at what was then Randolph-Macon Woman's College. The zoological collections can be dated at least to 1913, when professor John Irvin Hamaker featured images of some of these specimens in his textbook Principles of Biology.  Other specimens have been added at various times throughout the history of the college, and continue to be added by students and interested donors today.  Some of these specimens derived from other important collections including the Boucard Museum, the Smithsonian Institution, and the National Zoological Park.
Efforts to comprehensively digitize and catalog our collections are ongoing. The Environmental Studies and Science department is collaborating with the Biology department to assess, organize, and archive the geology collection, and integrate it more completely with the teaching of Physical Geology at Randolph College.
The current permit held by the biology department is for a salvage collection, meaning that new specimens are acquired after the natural or accidental death of the animal rather than active collection of living animals.
For current internship opportunities, click NHACP_Opportunities_Spring2018.
For the homepage for Randolph Science, click here .