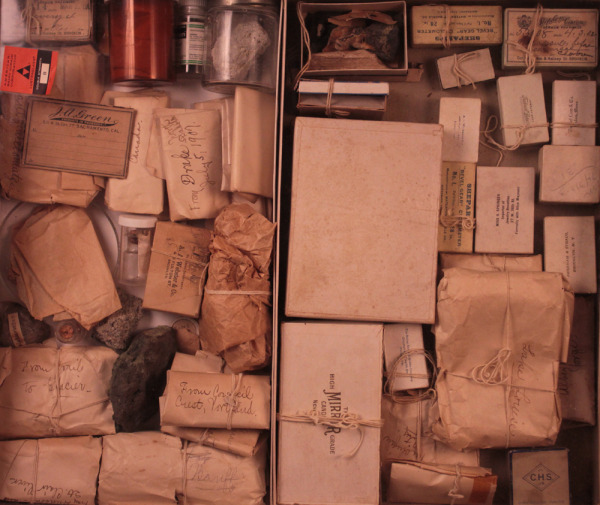 Many natural history collections are not the result of the endeavors of trained scientists, but instead grow from the curiosity and attentiveness of passionate amateurs. The Carrie Smith Collection is a perfect example of such a labor of love.
On a train tour in the early 1900's, Carrie Smith collected a number of geologic and plant specimens from around the country. While some of the collection was labelled by Mrs. Smith herself, many of the collection's specimens are unidentified. In February 2014, the collection was donated to the Randolph College Natural History Collection by Randolph College Trustee, Dr. Karen Campbell '77 — a family member of Carrie Smith. It has been fully digitized by Stephanie Barron '14, with the hope that some light can be shed on this unique artifact of history.
Following is a letter from Dr. Campbell '77 with more information on Carrie Smith and her collection:
Born Carrie Emma Munger on September 20 1868, in Cazenovia, NY. Carrie Munger's first marriage was to Clarence Russell Britton, in 1887. He died in 1900 in Saranac Lake, NY.   In November 1909 (at about age 41), Carrie married Apollos ("Paul") Austin Smith, Jr. Carrie and Paul Smith, Jr. (born 1871) had no children. He died in 1927 in Richmond, VA; Carrie died on Feb. 17 1931 in Palm Springs, CA.
Apollos Austin (Paul) Smith (the elder) was a well-known hunting and fishing guide, and his surviving sons (Phelps and Paul Jr.) were apparently similarly inclined. Many of Carrie Smith's mineral and rock samples, however, were dated prior to her 1909 marriage to Paul Jr.; perhaps her travel and hiking were what brought her into contact with Paul Jr. In her will, Carrie left a small bequest to the children of her "former guide, John St. Germain."
A wealthy woman by dint of her second marriage, Carrie Munger Smith left numerous large bequests, including $25,000 to the Sheltering Arms Free Hospital in Richmond, $10,000 to St. Phillip Hospital "for colored patients," $100,000 to General Hospital of Saranac Lake, NY, and smaller bequests to several additional hospitals and clinics.
I'm pleased to give this small gift from Carrie Smith to Randolph College. (Carrie Smith was my first cousin three times removed. I received the collection from my great-great aunt, Mary Siver, who was Carrie's cousin.) 
Karen Campbell, '77
Nashville, TN
To view the collection, click the link below:
To view historical documents relating to the transcontinental journey of Mrs. Smith:
The Railway Conductor – Vol. 13, p. 750 (1st full paragraph)
Indiana Gazette – 15th August 1906 (OCR text at bottom of page)