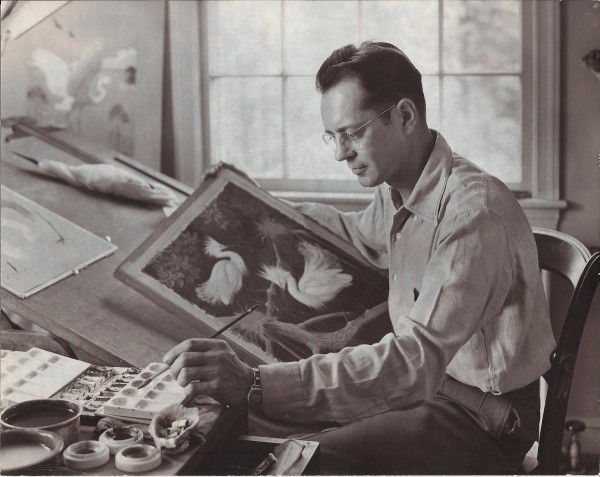 The Walter A. Weber Bird Collection features over 300 remarkable specimens, collected by Weber between 1925 and 1960 as reference material for his renowned illustrations of avian species. The collection was given to the Randolph College Natural History Collections Project by Weber's daughter, Toni Piggott, in 2014.
In 1979, a portion of Weber's bird and mammal collections was donated to nearby Sweet Briar College, where it was used extensively as a teaching collection by the late ornithologist, Ernest P. "Buck" Edwards. The remainder–including many of Weber's prized specimens–was retained by his family until its addition to the Randolph College NHCP. It boasts over 100 warblers; a male and female peregrine falcon; a specimen from the Crane Pacific Expedition, described by evolutionary biologist Ernst Mayr; and the extinct Carolina Parakeet.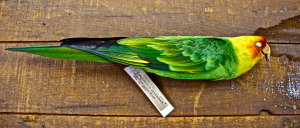 Walter Alois Weber (1906-1979) was born in Chicago, Illinois. He began drawing and painting as a child, and earned money for art supplies by selling his sketches for ten to fifty cents, to patrons of local bars. He attended Saturday classes at the Chicago Art Institute, studying with renowned animal artists such as Allan Brooks and Carl Rungius. Weber pursued a degree in zoology and botany at the University of Chicago, graduating with honors in 1927. He then spent four years on assignment for the Field Museum, and traveled extensively collecting specimens and creating illustrations. Weber also worked as a freelance artist for many years, and is well known for his extraordinary illustrations for numerous books, two Federal Duck Stamps, and many drawings and paintings for the National Wildlife Federation. He occasionally produced illustrations under the pseudonym "Al Kreml".
Weber held many enviable positions throughout his career, including: wildlife technician with the National Park Service; chief wildlife illustrator for the NPS; ornithologist at the US National Museum (Smithsonian); and staff artist and naturalist for the National Geographic Society. His field assignments led him to Yellowstone, Mexico and Central America, Africa, and to the Pacific as a member of the Crane Pacific Expedition, one of the last major collecting expeditions before World War II.
Weber's original artwork reveals him to be an astute observer with a deep appreciation for the natural world. His enthusiasm for animals and their environment was shared by his wife, Grace Kiernan Weber, and their children, Jean, Toni, and Kay. The Natural History Collections Project is very honored to have the friendship and encouragement of Toni and her husband, Jim Piggott, who have entrusted us with the future care of this remarkable collection.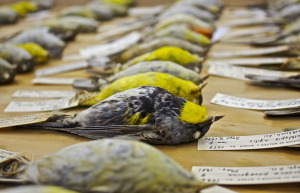 To view the catalog of the Walter A. Weber Bird Collection at Randolph College, click here. To date, only 23 of the birds have been entered into our online catalog. More will be added over the fall semester 2015.
To view an Excel inventory of the bird and mammal collection at Sweet Briar College, which includes many specimens from Walter Weber and Grace Kiernan Weber, click here. (Link not yet active)